Police fire rubber bullets at protesters at the Republican National Convention, St. Paul, Minn., September 1, 2008
They're rounding up journalists now.
Covering breaking news has always been a Constitutionally protected activity in the United States. The Bush administration, however, seems intent on changing the rules -- or at least in seeing how far the government can push its police state mentality and get away with it.
You'd think the mainstream media would be all over a story like this.
But so far, the biggest media outlets have been eerily silent.
Dozens of journalists, photographers, bloggers and videomakers have been arrested in an orchestrated round up of independents covering the Republican National Convention.
Journalists covering protests have been pointed out by authorities,
blasted with tear gas and pepper spray, and brutalized while in custody.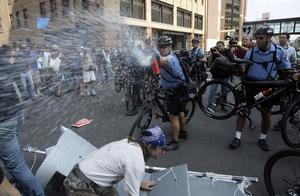 St. Paul Police use pepper spray on antiwar protesters at the Republican National Convention on Monday. One of those sprayed was AP photographer Matt Rourke, who took this shot. (Photo: AP | Matt Rourke)
Lest the mainstream media think this can't happen to them, and in what may be a tipping point, mainstream journalists such as photographer Matt Rourke of the Associated Press have found out that even they aren't immune to the brutal and indiscriminate tactics of the police in suppressing dissent. Rourke was doused with pepper spray, knocked down and arrested by St. Paul police.
He was shooting photos of the protesters at a parking lot at 7th and Jackson streets, in downtown St. Paul, when police converged from three directions. "We were encircled, and as I moved toward the officers in front of me in a passive manner, my legs were taken out from behind in an aggressive manner," Rourke said Tuesday after 12 hours in jail.
"When you hear about journalists getting arrested, it's very disturbing,"
said Congressman Keith Ellison (D-Minn.)
"I mean, the news gatherers—how can the people know, if they don't have news gatherers to gather the news and show them? But when those folks are being intimidated and even roughed up, it's pretty—it actually is a threat to democracy and the First Amendment."
On Monday and Tuesday, officers in riot gear fired rubber bullets, teargas, pepper spray and concussion grenades at protesters
and journalists covering the story
in St. Paul near the convention.
Fox News host Brian Kilmeade, predictably, expressed the opinion that the protesters should be arrested and left in jail.
It's no surprise that Fox failed to distinguish between the great majority of peaceful, non-violent protesters and the actions of a few -- quite possibly government-planted agents provocateurs -- who broke storefront windows and engaged in other acts of vandalism. Kilmeade and his "fair and balanced" Fox colleagues ignored brutal police tactics and indiscriminate arrests directed against peaceful protesters and journalists.
According to journalist Amy Goodman of
Democracy Now
, police in the Twin Cities arrested nearly 300 protesters, as well as several journalists covering the protest, on Monday. "I was arrested along with two producers from Democracy Now!: Sharif Abdel Kouddous and Nicole Salazar," Goodman said. "Also arrested, Associated Press photographer Matt Rourke and two filmmakers from Pepperspray Productions, Lambert Rochfort and Joseph La Sac."

Marcus Washington, a producer from Tennessee who was documenting the antiwar protest, grimaces in pain after he was hit with pepper spray. (Photo: Jim Gehrz / Minneapolis Star Tribune)
On Monday night, three journalists from the Kentucky Kernel were arrested while documenting the protests outside the RNC.
Photographers Ed Matthews and Britney McIntosh, along with photo advisor Jim Winn were all arrested and charged with rioting. Matthews and McIntosh were both charged with felonies, while Winn was charged with a misdemeanor.
"Nothing indicates that any of the three were actually participating in the protests, much less violating any laws that would warrant their arrest," wrote Taylor Shelton. "The police officers subdued the Kernel staff members with the use of pepper spray."
Everyday police violence seems to be the norm in Bush's America. On a weekly basis, we see shocking footage of police brutalizing ordinary Americans for no good reason. And when a security-intensive event like the RNC is held, it seems that the last vestiges of restraint are forgotten, as the police have free rein to assault, intimidate and detain peaceful, unarmed people who haven't broken any laws.
The Bush administration's Orwellian assault on the 4th Amendment is changing the political landscape. In one of the latest and most sinister manifestations of contempt for the Constitution, the right against unreasonable search and seizure is under siege by state, local, and federal police in Minnesota, as a Joint "Terrorism" Task Force has intimidated, searched, and arrested journalists for doing their job -- covering the news, along with activists,
even before they'd even taken part in any protests, and seized their laptops and video cameras, all on the flimsy pretense of suspicions of "intent to riot" and even of, get this, "fire code violations."
In the months leading up to the RNC, the FBI-led Minneapolis Joint Terrorist Task Force actively recruited people to infiltrate vegan groups and other leftist organizations and report back about their activities.
Federal agents and local law enforcement sought to preempt Constitutionally protected, lawful protest against the policies of the Bush administration during the convention.
"St. Paul was the most militarized I have ever seen an American city be, even more so than Manhattan in the week of 9/11 -- with troops of federal, state and local law enforcement agents marching around with riot gear, machine guns, and tear gas cannisters, shouting military chants and marching in military formations. Humvees and law enforcement officers with rifles were posted on various buildings and balconies,"
Salon's Glenn Greenwald wrote.
"Numerous protesters and observers were tear gassed and injured.

Protesters try to avoid pepper spray during a protest at the Republican National Convention in St. Paul, Minn., Monday, Sept. 1, 2008. (Photo: AP | Matt Rourke)
"I was personally present and saw officers with riot gear and assault rifles, pump action shotguns,"
said Bruce Nestor, the president of the Minnesota chapter of the National Lawyers Guild, who is representing several of the protesters.
"The neighbor of one of the houses had a gun pointed in her face when she walked out on her back porch to see what was going on. There were children in all of these houses, and children were held at gunpoint."
Greenwald described the targeting of leftists by "teams of 25-30 officers in riot gear, with semi-automatic weapons drawn, entering homes of those suspected of planning protests, handcuffing and forcing them to lay on the floor, while law enforcement officers searched the homes, seizing computers, journals, and political pamphlets." Journalists were detained at gunpoint and lawyers representing detainees were handcuffed at the scene.
The raids targeted members of "Food Not Bombs," an anti-war, anti-authoritarian protest group that provides free vegan meals every week in hundreds of cities all over the world. Food Not Bombs served meals to rescue workers at the World Trade Center after 9/11 and to nearly 20 communities in the Gulf region following Hurricane Katrina.
FISA and the Fourth Amendment may seem like some lofty abstraction to some people, but what's happening in St. Paul is very real, and very important. Those are your freedoms they're trampling on. Those freedoms, by law, apply to every American citizen, by virtue of our Constitution. The "Get FISA Right" ads, such as the one linked below, are one way to insist
that's not OK with us.
http://www.youtube.com/watch?v=CXgMUwlwazk
"We've got at least 9 Get FISA Right ads scheduled to air on the cable news networks during the Republican National Convention," said Jon Pincus of privacy advocacy group
Get FISA Right.
"With the live documentation of journalists in handcuffs and demonstrators teargassed and pepper-sprayed in St. Paul, a prime time Fox News ad defending the Constitution for only $123 feels like money very well spent. I know it's been said a lot recently, but
SaysMe.tv
's ability to let individuals air cable ads is really a game-changer."